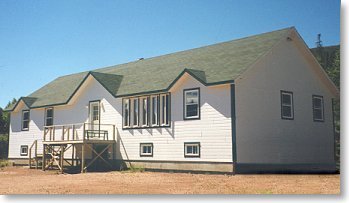 FIRST ESTABLISHED in 1960, the Pinware River Lodge has been extensively renovated in recent years.
Now a family-operated business, we offer accommodations for up to eight fishermen at a time (single beds in double rooms).
The lodge's amenities include full meal service, hot and cold water and a screened porch area for relaxing after the day's fishing.
The Pinware River Lodge offers six days per week fishing. Licensed guides (usually one per fisherman) and boats are supplied. Our guides are local people with an excellent knowledge of the Pinware River. Licenses may be purchased at the lodge.
Guests planning to stay with us are reminded to bring their own waders and rain gear. Insect repellent is recommended.